THE place for YOUR Water Treatment Products
Call: 01948 710699
Answer phone service at all other times
We'll be closed from 12pm on Fri 22nd Dec '23 until 10.30am on Tue 2nd Jan '24. Last posting date is Thu 21st Dec '23.

You can still call to leave a message.
We'll be closed from 4.00pm on Thursday 6th Apr '23 until 10.00am on Tuesday 11th Apr '23.

Enquiries can be emailed via the link on the left or you can call and leave a message.
EXPERT ADVICE • QUALITY PRODUCTS • OUTSTANDING SERVICE
ALL DEPARTMENTS ...

OUR BRANDS ...
2 Wem Moss
Bettisfield
Whitchurch
Shropshire
SY13 2LT
Doulton SS2-ATC Berkefeld Gravity Filter System with ATC Heavy Metal Filters full details...
Doulton SS2-ATC Berkefeld Gravity Filter System with ATC Heavy Metal Filters full details...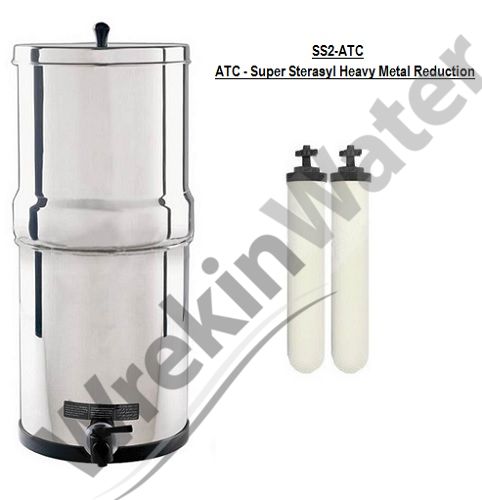 CALL US FOR PRICES AND AVAILABILITY
Related products:-
Drinking Water Systems - Click to see all
Berkefeld Gravity - Click to see all
Wrekin Gravity Systems - Click for full details
Please call us on 01948 710699 for the latest web price on this item
British Berkefeld SS Gravity Water Filter

Ideal for camping, emergency situations, Rented Properties and everyday use.

For use on municipal or natural water supplies.

Saves you money on expensive bottled water.

Up to 7 litres of reliable drinking water on tap wherever you are.

Filters out: Pathogenic Bacteria (cholera, typhoid, salmonella, E-coli, etc.) Giardia, Cryptosporidium and other parasites, Chlorine, Organics and all types of particle contamination down to 0.5 micron
.
Filters out Lead and other heavy metals (When fitted with Doulton ATC Super Sterasyl™ candles).

Portable, lightweight, high capacity filter.

Easy to use. Simple to maintain.

Pour untreated water in the top. Get filtered water from the tap. No power supply required.

Supplied with 2 ATC Super Sterasyl™ filter candles

Expected Flows as below

2 candles – 40 litres per 24 hours
Candles last up to 6 months


These filters do not reduce TDS (Total Dissolved Solids) TDS are made up of essential minerals, essential for Healthy Water and these filters do not remove hardness minerals such as Calcium or Magnesium. They remove Chemical contamination as well a whole range of bacteria and Water borne cysts. Checking with a TDS meter is not an appropriate test for these filters


For ease of transport, the upper chamber fits into the lower chamber to save space. The capacity of the lower chamber is (7 litres).


Ceramic filter candles can be cleaned to extend life.

Candle Life 1500 Ltrs or 6 Months - whichever comes first

Total Height of assembled unit = 505mm (Includes knob)diameter 225mm

Plastic Bib Tap

Storage height = 355mm

Registered Office:
2 Wem Moss
Bettisfield
Whitchurch
Shropshire
SY13 2LT
Prices incl. VAT & delivery to all UK Mainland Postcodes. (Excl. Highlands)